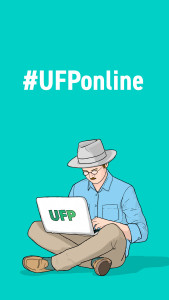 From Monday, March 16, face-to-face teaching will be interrupted, being replaced by distance learning, in theoretical and theoretical-practical classes, until March 30, the date on which face-to-face classes will resume, if conditions are met for us to do so.
Practical-laboratory and clinical classes, with percentages of mandatory attendance, will be recalendered during the Easter holidays and the academic break of the week of Queima das Fitas.
UFP has all the conditions to guarantee distance learning, synchronous and asynchronous, and, if necessary, also by live streaming, which we will use in pedagogically advisable situations.
Thus, the directions of the Faculties (Health Sciences / School of Health, Human and Social Sciences and Science and Technology) and the School of Health, will disclose, by Friday, March 13, the relevant information and the academic calendar  adjusted to the present circumstances.
Porto, March 11, 2020.
The Rector
Prof. Doctor Salvato Trigo
**Only classes and events are for the time being suspended all other University services remain operational**