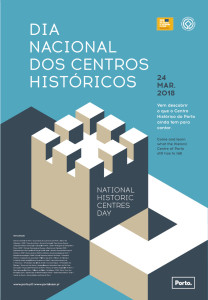 What: Activities organized for the National Day of Historic City Centres
Where: Porto
When: March 24 2018
Image taken from here.
"National Day of Historic City Centres is officially marked on March 28, but the city of Porto celebrates its heritage on the closest Saturday to the date of this event. As such, on 24 March, the city of Porto features a festivities programme to get people involved and interested on the city historic centre and assets.
Porto Historic Centre was declared World Heritage by UNESCO in 1996. This special day offers an opportunity to get to know the cultural patrimony of the city as well as its fantastic history.
It is the right opportunity to visit hidden places and try out new experiences celebrating the city's history and architecture.
It should be spotlighted that The National Theatre São João offers free tours to the Theatre's building, namely the concert Hall, the rehearsal room, dressing rooms, technical and theatrical fittings and equipment with interpretation available in English, French and Spanish as well as Portuguese sign language interpretation, on March 24th, from 12.30 am to 13.30 pm. Tickets must be collected at the ticket booth on the same day."
For more information: http://www.portolazer.pt/assets/misc/img/noticias/DNCH/2018/DNCH_programadigital.pdf