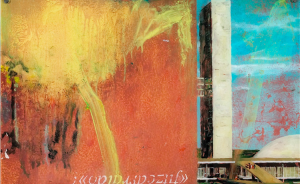 What: Exhibit: Cabrita Reis Collection
Where: Porto Municipal Gallery
When: untill May 20, 2018
"Porto Municipal Gallery, jointly with the Museum of Art, Architecture and Technology (MAAT) features the most complete collection, to date, by Cabrita Reis. The Collection is themed "Germinal" and focus on a significant set of works that have been acquired by the artist Cabrita Reis over the last thirty years.
The collection includes the works by renowned Portuguese artists, especially of the "Nineties generation". The work by artists from earlier and later generations is also part of this collection.
Cabrita Reis was a dedicated collector, who supported artists as well as experimental and cosmopolitan artistic practices.
The EDP Foundation acquired the Cabrita Reis Collection in 2015."
Image and information taken from here.