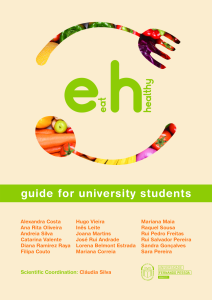 Prepared by students for students, supervised by the Coordinator of the degree in Nutrition Sciences, Prof. Cláudia Silva, the eBook Eat Healthy – guide for university students "aims to be a tool to promote healthy eating habits facilitating the integration of international students studying in Portugal".
The document is divided into several parts, starting with the rules for healthy eating, defines and describes the principles of the Mediterranean diet, teaches how to interpret food labels, shows the care to be taken for better food preservation and handling, addresses the sustainable choice of fresh food according to seasonality and, finally, shows the equivalents of food in different regions of the world.
You can download the free eBook in epub or mobi versions (you will need a software like Calibre or other to be able to read it).